Paper Plate Rainbows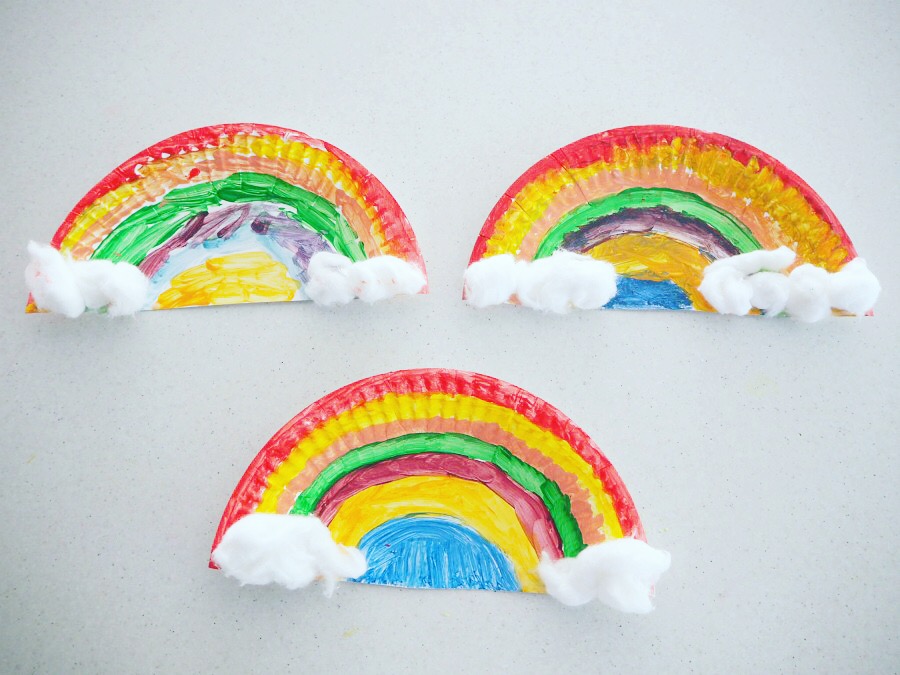 We are crazy for rainbows and cuteness here! If you're looking for a sweet and simple activity for the mid-term break, you can turn the humble paper plate into a vibrant rainbow. This activity can provide children with a sensory experience as they decorate their rainbows, and follow it up with singing Sing a Rainbow together.
This activity is fun for:
Holiday craft
Sensory activity
Baby interaction (sing rainbow songs and wave the rainbow cloud about)
Bedroom decor
Sing a Rainbow by Arthur Hamilton
Red and yellow and
Pink and Green
Purple and orange and blue
I can sing a rainbow
Sing a rainbow
Sing a rainbow too
Listen with your eyes
Listen with your ears
And sing everything you see
I can sing a rainbow
Sing a rainbow
Sing along with me
Materials
Paper Plates
Scissors
Paint
Paint Brush
Craft Glue
Cotton Balls
1. Cut a paper plate in half.
2. Paint each colour on the semi-circle to create your rainbow. Think red and yellow and pink and green. Purple and orange and blue. Allow to dry.
3. Once dry, glue the cotton balls at the end of the rainbows for clouds.